In the latest such case, Tuesday Bassen posted a comparison of her pin designs and Zara's on Twitter saying 'companies like @zara consistently rip you off'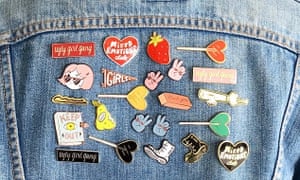 The fast-fashion brand Zara is facing criticism for allegedly copying the designs of Tuesday Bassen, an independent artist based in Los Angeles.
Bassen, an illustrator and designer, posted a side-by-side comparison of her pin designs next to Zara's. "You know what? Sometimes it sucks to be an artist because companies like @zara consistently rip you off and deny it," she wrote on Twitter on Tuesday night.
Bassen has worked with Playboy, the New Yorker, the United Nations, Nike, Adidas and others, according to her website. This was her first interaction with Zara, she said in an email to the Guardian.
Bassen said she first found out about the similarities from her fans, who amount to more than 100,000 followers on Instagram. She took action after seeing a design resembling her Girls Pennant in person.
The artist contacted Zara with a lawyer about the supposed copies. According to Bassen's posts, she was told that her designs were not distinctive enough to be associated with her and that notifications about the copies amounted to a "handful of complaints" in comparison with the monthly traffic on Zara and Bershka, a store owned by the same parent company.
Bassen is not the only artist whose work has seemingly been lifted by Zara. Adam J Kurtz, Bassen's friend and a fellow designer, compiled an image comparing the work of 12 independent artists with near-identical products on Zara's website – including his own. The pieces he included in his graphic were found on Zara's site in June and July, he said in a phone interview. He also listed the products under the heading "Shop the Stolen Art" on his personal website.
By Thursday, Kurtz's count of affected artists had risen to 17.
In the past, Zara has been criticized for its designs' similarities to high fashion brands such as Celine. Luxury shoe brand Christian Louboutinonce sued Zara for selling red-soled shoes – the company's signature.
Marguerite Sauvage, a comic book artist and illustrator, said on TwitterBershka had also ripped off one of her designs in 2008. Sauvage has worked on Valiant Comics' Faith, DC Comics' Bombshells, Dynamite's Red Sonja and various other Marvel titles.